Do you really believe it will be possible

to make my own website free

? If you think about that for a while, you will agree with me that this is hardly possible. Because even if I do not pay for it, I will have to spend time

to make my own website

. So just if you say my time is free; it is indeed possible

to make your own website for free.
Most of the people who are asking for a free website just want to keep there money bag closed. Therefore I will limit myself here on building a website without paying money for it. So it will be of value for all us who want to make their website themselves.
If we want to build a house we all know that we need bricks and mortar to do this.

If we want to build a website we need software pieces, called files, and some connectors, called links, to glue the software pieces together to what we call a website.

Moreover

we need

a piece of land, so called

webspace

, on which to build our website

and an address, so called domain name,

where this website will be located in the web.

In order to make the software files for our website we need tools and skills to do so. These tools and skills are the following

a home computer; our already available PC

a computer program to write the software files; a so called web editor

a graphic program to create and to edit image files

a program to make or to edit a video

skills to use that all
Now I suppose you have already a PC, so you don't need to buy one for your webproject. Thereafter you have to find your software programs to create your files.
The required computer programs can all be downloaded from the web for free.

These programs are usually of excellent quality because very many users are applying and improving this software continuously.

These programs are so called open source (OS) programs and are permanently updated.
Personally I apply open source programs as well as paid programs. In several cases I prefer the open source programs, because they are not overloaded with seldom used modules and therefore simpler to use.

Small and simple is beautiful.

To find the open source programs go to Google and search for free web editor etc.
As soon as the programs are downloaded and installed on my computer, I have to use them properly and that will take time. So the question

"how to make my own website free"

is answered by using some of my free time.
I highly recommend starting with a one page website at first.

This first page, the

so called home page

, will usually be composed of text contributions and images. The text contributions, written with a modern

web editor

, are as easily edited as writing a letter in Word. In the community this is expressed by the sentence;

"What You See Is What Get"

(WYSIWYG – Editor)

. The images usually have to be reduced in pixel size and in dimensions in order to assure a fast access to the site by visitors. If I do not have an own video I can embed an appropriate foreign video from a public video portal like for instance YouTube with a life link.
As everything in life organisation is more than halve of the work.

Therefore I create a special project folder (MyFirstWebproject)

on my computer and save all information of my site in the project folder. The project folder contains all the text files and all the images. The images should be saved in a special images folder (sub-folder) which belongs to the project folder.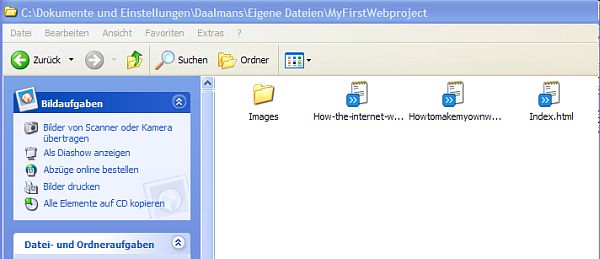 This filestructure is quite typical for websites and reflects the way internet browser are handling image files and text files separately. Moreover the text files don't have an ending .doc like after writing a letter with Word but an ending .html.

These html-files can just be created with a so called web editor.

Therefore I first focus on finding an appropriate free web editor.

There are several editors available but I prefer the

KompoZer-editor

which I use daily. Also this site was made with KompoZer. This editor is free, is open source and therefore regularly updated, it is simple to use and it delivers very well results.



In order to get KompoZer



go to Google search and type in "Kompozer + download". One of the first results will be the download page for KompoZer.

Start download

Start installation

Install shortcut to desktop

open KompoZer
Thereafter you should see the following screen.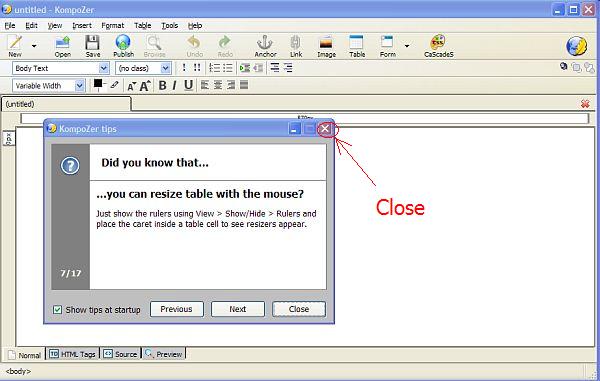 After closing the popup window, the program is ready to use. The upper part of the remaining window contains the editing dashboard and the lower part contains the page to be edited. The next picture shows a page in development.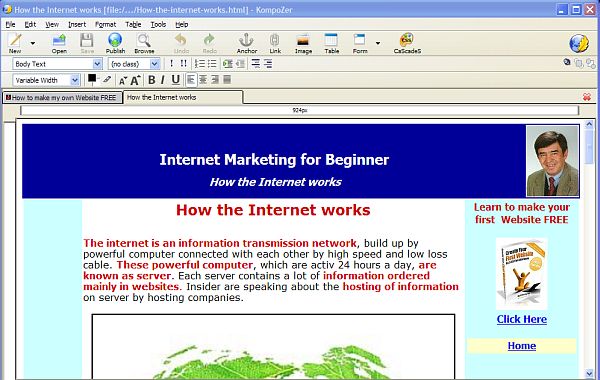 So in general each page looks like a collection of text pieces, images and hyperlinks (blue underlined words). The text pieces are "written" with the editor and the images are embedded in the page with links pointing to the images folder. However before the images can be inserted into the website they have to be adapted in size and information depth. The upload time of a web page should be smaller than 100msec. This means that the size of a picture can not be in the order of 1Mbite, the usual size of a digital camera picture. It has to be reduced to 20 to 50 kBite preferably. This is done with another free program called

IrfanView.

The bit-reduction is usually done such that a visitor do not experience a quality reduction of the picture. The image looks like the original.



In order to get IrfanView



Thereafter you should see the following window without the picture of one of the loveliest places in Germany called Bamberg.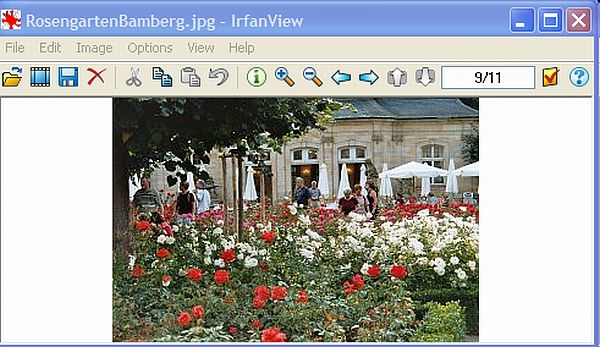 The whole procedure is done with a few clicks; really very simple.

By the way I am using this tiny program also to make screen pictures

. I really love this program.

In several cases pictures have to be edited

by contributing text to the pictures.

This I am doing with

Paint

, a small program which belongs to the assessories of each Windows PC.
A more extended version of paint you will find in the Internet by doing a Google search ...... and again it is for FREE.

Of course you should make a donation for paint.org.
In order to get Paint, you should do the same procedure as before.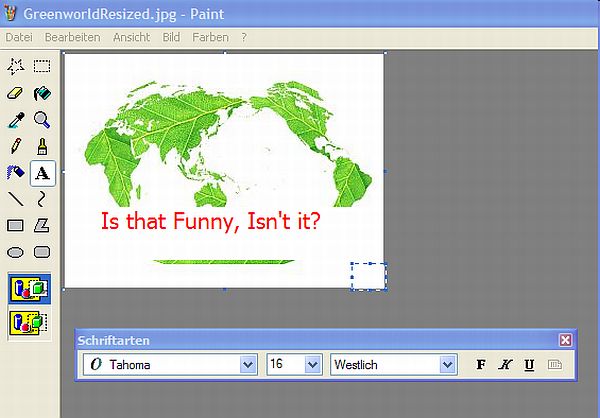 Here Paint has been used to incorporate the sentence "Is that Funny, Isn't it?" Again a very simple program, easy to use and if there are no artists requirements to the image mostly good enough to do the job.



In principle this is all you need to make your website for FREE

. If you want to learn more or if you want to develope your skills further I highly recommend you to visit this site. If you do have questions don't hasitate to ask me.